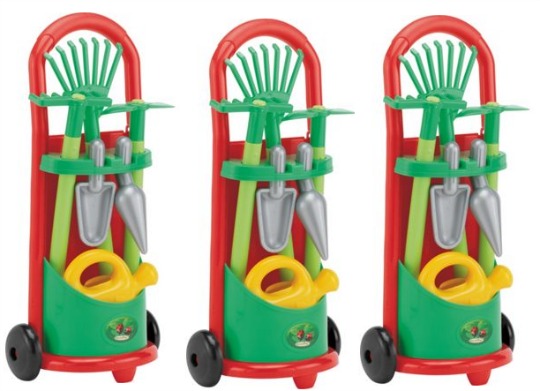 It can be really difficult getting chores done when you have little ones around your feet. It's natural they want mummy or daddy to entertain them, so the easy thing to do is to include them. At this time of year the garden needs seen to frequently, so grab something like this Little Rake Hoe Trolley from Homebase. It's only £8.49 with that special 15% off. Today is the last day for that, if you are on the lookout for any DIY or garden goodies.
The Little Rake Hoe Trolley is a handy caddy on wheels that contains a watering can, a trowel, a pick axe, two rakes, and some other tool that I am totally unfamiliar with.
It's suitable for children aged 18 months or over and looks like oodles of fun. The only thing is you will need to give them their own little patch so they aren't getting creative and undoing any hard work of yours.
You can Click and Collect this Little Rake Hoe Trolley for FREE from any Homebase store, you'll need to do it today to get that special price, or pay £3.95 for delivery.