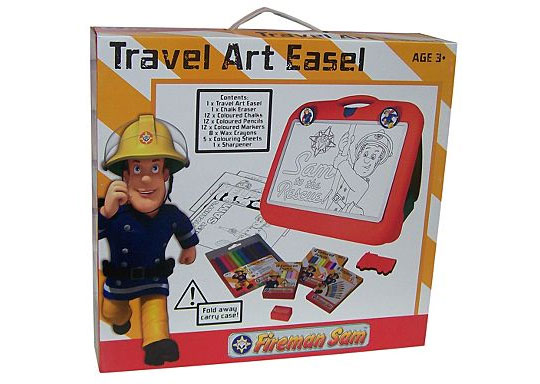 Debenhams are selling this Fireman Sam Travel Art Easel for £8.75 now - it was originally £17.50, then reduced to £14 and now £8.75.
Long journeys or being away from home without access to all your 'stuff', as a child, can be b-o-r-i-n-g!  Bored kids are no fun so it makes sense to invest in a few things to keep our little cherubs occupied when out and about.
This Fireman Sam Travel Art Easel looks fit for just this purpose - it comes with 12 coloured chalks and a chalk eraser, 12 coloured pencils, 12 coloured markers, eight wax crayons, five colouring sheets with Fireman Sam pictures and a sharpener.
I'm undecided as to whether I'd pay £17.50 for that (I think my 'what's value for money or not' perspective is a little warped after two and half years of scouting for bargains every day) but it's most definitely worth £8.75!
You can arrange to collect your Fireman Sam Travel Art Easel for free, in-store, four days after placing and paying for your order, or you can wait the same amount of time and take advantage of standard free home delivery.
Happy drawing on the go!