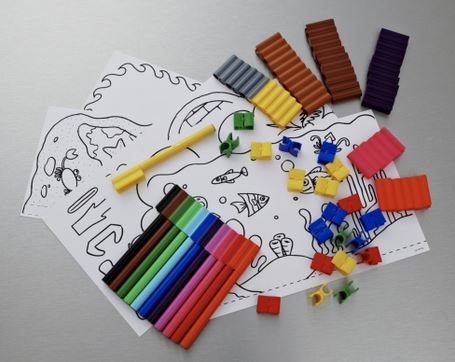 I love a toy that does more than one thing. It doesn't need to have bright lights or sing me a song, but if it can fulfil more than one role and provide multiple purposes, then I love it. I love when the same amount of space usage can offer two functions, I really do. Which is why I think the Faber-Castell Creative Craft Set with Connector Pens (£7.99) is just awesome.
I'll be honest and say that when they first came out the package, I wasn't really sure what they were. It just took opening the box to very quickly figure it out though: Think construction games, throw in some colouring and there you have the limitless options that come with a wealth of imagination.
Inside the box there are 12 marker pens with caps which double as connectors. There are 50 additional caps that clip to each other, and the pens, and 20 half sized, swivelling connector clips. Finally there are 5 colouring pages which can be coloured and then cut out to help with your designs. There's also an instruction sheet with step by step guides on how to build the things in the pictures, kind of like LEGO instructions - for example in the Ocean Adventure box, you can build a ship.
You use the connector clips and pens to build whatever shapes take your fancy, however, and while they're aimed at 6+, my four year old had created a sheep pen with an opening door  - thanks to the connector clips - within minutes of unpacking the kit.
We have the Jungle set too, but there's also a Desert set, each of which come with their own pictures and structures. If you've used them all up,  however, you can also download and print additional pictures from the website, which I think is brilliant as it adds to the length of life you can get out of your set.
The pens are great quality, as you would expect from Faber-Castell and the play opportunities are rather endless.