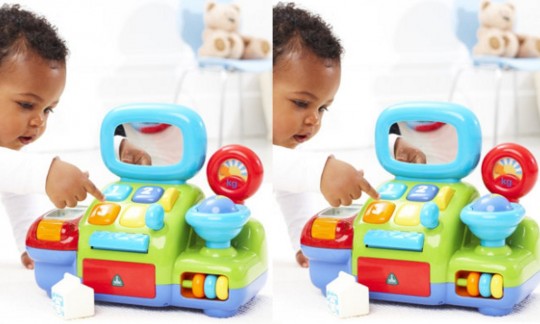 There's a fabulous 50% reduction at Mothercare on the ELC My First Shop, which seems to be pretty highly rated among parents at least! It's selling for £10 instead £20, so a nice one to shore up for Christmas. It also comes with free UK delivery right now.
We went to Lollibop recently and they had a 'village' with different 'shops' in different square rooms, and each 'room' was themed, with the the first being a shop, and among them were also a gadget shop, pet shop, art studio and so on. The grocer had shelves with play food and a play till and little baskets and the kids were just loving it. The staff were repacking everything after it had been through the cash register, and the kids just kept going back for more 'shopping'. It was brilliant!
This till requires 2 or 3 xAA batteries (it says both in the description) and it comes with a piece of fruit, a milk carton, a pineapple can and some coins.  The keys are chunky and light up the numbers on the screen, and you can weigh the fruit on the scales, roll the conveyor belt and open and close the cash register.
I can't find an age specification for this, but I'm guessing baby, and it looks like a fun interactive toy for little learners.
Thanks to noodlenami at HUKD