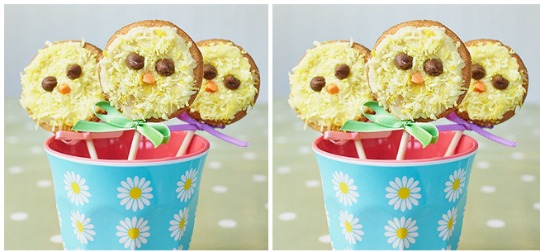 Easy kids baking ideas are a good way to keep everyone happy over the holidays, and I've been looking for things that I can get the ingredients for now in time for the school hols. I love the look of these Chick Easter Biscuits, and they look so easy to make as well.
I'm not good with biscuits to be honest - mine tend to crumble away in a soggy mess or are so hard they break your teeth. Because of this I might even cheat and buy some ordinary cheap biccies and borrow the decorating idea. I think my son is a bit bored of making fridge cake, cupcakes and rice krispie cakes, even though he likes eating them, so we'll try these instead over Easter.
There are lots of Easter recipes on the BBC Good Food website, and I tend to look at the kids ones as they are usually something easy enough for me to manage! You can also get great recipes and ideas for Easter on the Asda "Kids In The Kitchen" website.