Every now and then someone comes up with something pretty cool and different and the Doodle Duvet and Table Cloth definitely fall in that category. The Doodle Duvet is designed to look like a giant piece of file paper, complete with printed lines, holes and red margins on both sides. It comes with 8 wash-out colour pens.  The Doodle Table Cloth looks like a giant piece of graph paper and also comes with 8 pens.
We passed these on to PlayPennies mum, Tracy who tested them out on a 5 year old and an 8 year old.
Here are Tracy's thoughts:
"The Doodle Duvet is thick and good quality. It is quite tough too."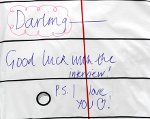 She goes on, "We got coloured pens and the duvet in one kit and the instructions which say that you can draw on the duvet as much as you like and then how to wash it. The other kit has the table cloth and pens and instructions too."
According to the instructions, you can clear all your doodles in a 40C wash. "Washing is simple. Just put it in at 40 and it will wash away the drawings so you can start fresh. We washed it at 30 and it cleaned up perfectly." That's great news, being better for the environment and all.
"The pens come in a variety of colours such as red, yellow, black, blue and so on," says Tracy. "The nib of the orange pen got pressed back into the body of the pen on the first day. I am not sure how. I know my 8 year old probably pushed it too hard but it does seem a little fragile when this is for kids."
On that note, you can buy replacement pens at £5 for a set of 8.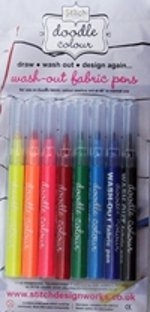 "The duvet is easy to draw on. You won't find it hard to make the pictures. It almost seems a shame to wash them out after wards as the girls spent so much time making perfect pictures. The table cloth works just as well, but you need to be aware that it can leak through onto the table, so you might want to put something between the table cloth and the table."
While Tracy thinks this is a really great set, she does think it's quite expensive. "It is quite expensive at £45 but is now selling for £35 which is slightly better. It is a lot of money for a single duvet I think. I know it is a clever idea and it makes a brilliant present for someone but it is expensive as I can buy a single duvet for £8 and then just write on it."
To test it out, Tracy did some experimenting. "I did experiment with writing on old pillowcases to see if the pens washed out on them and it did work. Although the one kept some of the colour. I would probably pay for the table cloth as they are usually expensive and the idea is great. The replacement pens are £5 and I would get those to play around with old fabrics anyway."
A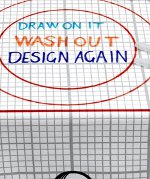 sked to rate the Doodle Duvet and Doodle Table Cloth out of ten, Tracy rates them as follows: The idea gets 9/10, the price gets 5/10 and the quality gets 8/10 for the fabric and the design and quality but 6/10 for the pens.
These are pitched at 'all ages' so we wondered what Tracy thought about the age suitability. She says, "I know I wished it came in double duvet size so I could get one for my bed. I liked the idea of writing notes on the bed. Especially good for when I remember something at 3am and wake up in a shock."
While I love the idea, I must admit, I'm not convinced about teaching little ones that it's okay to draw on the tablecloth or bedding – how would you explain the difference between that and another duvet. I think, for little children, it's going to send a really confusing message – so for my part, this would be a lovely gift for an older child.
You can find the Doodle Duvet at Stitch Designworks for £35 at the moment, and the Doodle Table Cloth for £35 too.