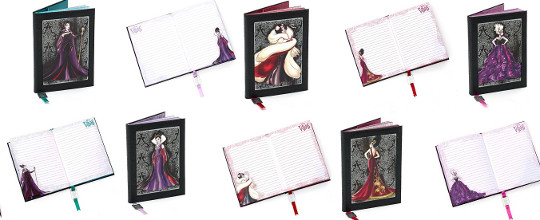 The Disney Store has half off a set of Disney Villain notebooks, which are selling for £7.49 instead of £15.
I'll be honest, I still think £7.49 is a lot of money for a notebook but at the same time,  you can get some really expensive notebooks, so I guess it's all relative right?
I must admit I love the look of these books. Perfect for jotting down all your thoughts, or making your plans or whatever it is you do with pen and paper these days.
The villainesses available are Cruella DeVille from 101 Dalmations, Ursula the Sea Witch from Little Mermaid, Evil Queen  from Snow White, Malificent from Sleeping Beauty and Mother Gothel from Rapunzel.  I don't think I'd ever bring myself to paying £15 for this, but at half price they are pretty enough for it to be tempting!
Thanks to RainbowBrighter at HUKD