Disney Princess Or Toy Story 200-Piece Art Case £9.99 @ Toys R Us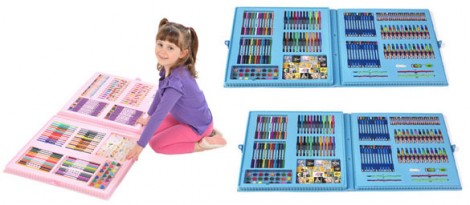 Oh my goodness, this is a great deal - Toys R Us are selling this Disney Princess or Toy Story 200 piece art case for half price.
I would have LOVED this as a child; I've always been very arty and, if you're that way inclined, you can never have too many pens, pencils, paints or sheets of plain paper!
I know I'm living in La-La-Land when I say that this will mean all your child's art things can be kept neat, tidy and in one place (well it will if YOU put everything away each time) but at least the potential is there for instilling tidiness in your kids.
The Disney Princess art case is, obviously, very pink and will delight all wannabe arty princesses - I'm just mesmerised looking at the picture with everything lined up in correct colour orders; I almost want one for myself.
Although I'm not a 'pink' person so I'd probably go for the Toy Story art case which is a much nicer shade of blue, but contains all the same 200 pens, pencils, crayons, paints, brushes and pastels as the Disney Princess version.
At £9.99 these art cases are a real bargain, you just couldn't buy everything seperately for the same price - let alone find a pencil case big enough to fit it all in!
You can arrange to collect this instore for free, or you can pay £4.95 for standard delivery to your home.
Happy getting arty!