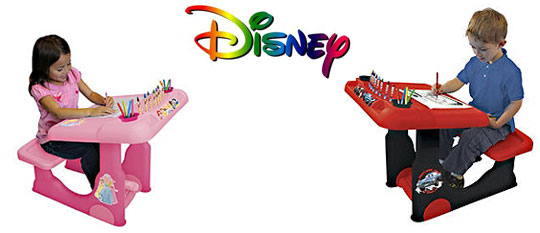 Remember last week I gave you a heads up on the Sainsbury's Half Price Toy Sale?  It starts TODAY - hurry up and get yourself over there, stock has a habit of flying off the shelves almost as soon as the virtual, and real, doors open!
There are 93 items marked down by half on the Sainsbury's website - there tends to be more in-store - and these Disney Art Desks caught my eye this morning; there's one for the girls in typical Disney Princess pink and a Disney Cars version for the boys.
All of my children are very arty, it must be genetic because I am and so is my mum - my youngest is currently visiting my mum in Italy and news, via virtual postcard, says they've been spending lots of time drawing and colouring.
Both desks come with attached seats, eight crayons, eight markers and five colouring sheets - not much in terms of arty bits and pieces but I'm sure you'll already have a fairly comprehensive stash of those tucked away somewhere, if not then perhaps have a scout around the Sainsbury's Half Price Toy Sale for some half price art sets.
Remember, the key to successful half price toy sale shopping is being the early bird - forget worms, this is all about TOYS!
Go forth and bag bargains!