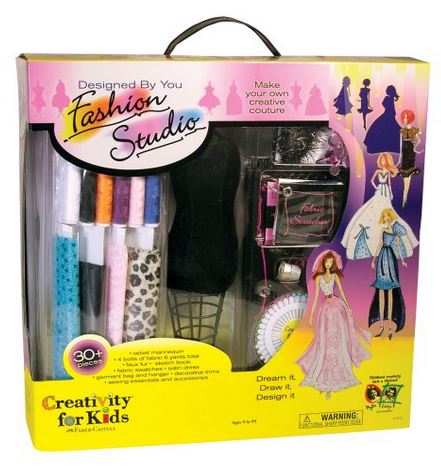 Amazon have 30% off on the Creativity for Kids Kit Fashion Design Studio, reduced to £28.67 -  Crafts4Kids have it for £33.94 and Debenhams have it for £35.20, so not a bad price. 
I don't know about you but I'm starting to stock pile for the summer months. Everything in our area for children pretty much shuts down, and we spend a lot more time at home than normal, so having a gazillion prepared things on hand is pretty much essential for the peace and sanity in our home.
In this set you'll find a lot of bits:
1x Dress mannequin
Sewing essentials
1x Sketch book
6x Yards of fabric
1x Swatch booklet
Trims
Embellishments
1x Satin dress form
1x Garment bag
1x Fashion design manual
1x Embellish the dress include
It's a pretty great set, actually and if you read the reviews you'll see the recipients of it as a gift love it. I was looking for a negative review to see what the down sides are, but there weren't any. One person mentioned that it wasn't all that durable in the wrong hands, but as it's aimed at those 8 and older, it should be a great gift.