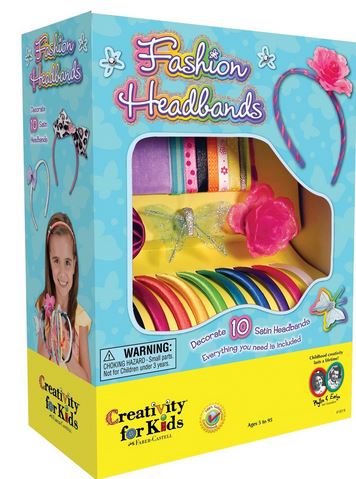 Amazon have a reduction on Creativity for Kids Fashion Headbands Kits, priced at £12.43 instead of £17.75. ArtDiscount has it for £16.50 including postage, and the Great Little Trading Company have it for just under £20.
It's amazing to me how many things there are on the market these days to encourage and stimulate creativity and passion and inspiration in young people.
Aimed at children aged five and up, Creativity for Kids is the premium brand of craft kits for children available from Faber-Castell.
In this set, fashionistas create 10 awesome accessories with the ultimate headband set. The headband set includes a rainbow array of satin headbands, rhinestones, flowers, feathers, a butterfly, yards of ribbon and more.
It would make for a fun play date or a birthday party activity, or just an introduction to fashion design for someone so inclined.
The reviews on this are pretty good, with comments like "Plenty to do with what was provided. Very reasonably priced and would certainly recommend this item for 6-9 year olds." This is pretty encouraging, as kits often don't quite meet up to the advertised expectation, but it seems this one more than does.