Creativity For Kids - Designed By You - Special Occassion Fashions By Faber-Castell Review

We received a set of Faber-Castell's Creativity For Kids Designed By You Special Occasion Fashions here at PlayPennies HQ to help us celebrate the Royal Wedding, what now feels like years ago. We passed it on to mum to a four year old, Heyejung, and asked her to give us her best critical appraisal of the set, because, well, it's not a budget buy.
The Designed By You set is just over £40, and if it's going to be worth it, it would have to be quite a kit, which according to Heyejung, it is.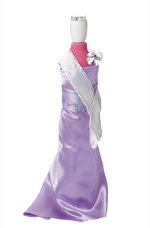 "This kit is really rather awesome and something pretty special. The high price does demand that the kit offer you something extraordinary and so far I am happy to say that it has proven to be worth the price."
The kit comes with over 60 different pieces including a dressmaker dummy in miniature, measuring tape, glitter glue, scissors – which our tester-mum says aren't great, and you'll do well to just use your own -  a lot of fabric in different colours, thread, embellishments like lace and flowers and frills, fabric charts and more.
"Opening the kit reveals a limited amount of packaging, which is nice, as well as some things that were secreted from view. It really is rather amazing to use as the items just keep coming - it's like a magic box with tons of stuff in it. I mean, there is even a thimble, needles, pins on a pin wheel, a pin cushion, fabric swatches, a sketch book for your designs, satin roses and bows and a storage bag to keep everything neatly packed away once the packaging has been done for."
There is also a ready-made satin dress for you to use as a base.
"I love the fact," says Heyejung, "that this has given my child so much creative freedom in making things by hand as I am a big fan of this. The set is for kids aged 9-99 apparently and I can see why. I had as much fun as my daughter and she proved to be that little bit more creative with design than I could ever be. On top of that the items in the kit were of a good enough quality to be used in my sewing kit on a daily basis so I have now got some bits and bobs that I had lost or run out of like pins and a thimble. Really good."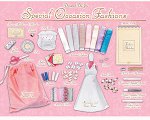 Heyejung even liked the material they provide along with it.
"The fabric quality is good too. There is tulle, lace, satin, patterned lace, coloured fabric and more. Even I got all excited about using this to create some lovely items with the dress and dummy and provided instructions. To start with you can use the provided pencils to sketch your designs in the provided sketch book. They have a page of different designs included with the kit so you can get some ideas and the sketch book has pages and pages of already drawn outlines. You don't need to be an artist at all. You can select the style you like from the provided outlines in the book, then you add in the dress details with the pencil (it means you can erase old designs and start again as often as you like so this set has long lasting value)."

The set also comes with a handy instruction book, filled with ideas if your young designer is stuck on where to start.
"The instructions teach kids about draping, loose stitching, basting and applique. You can also reuse the fabric following their instructions and use fabric cut offs from fabric stores to make more designs when the provided things are finished"
So, overall, Heyejung seems really thrilled with this set, and although it's recommended age is 5 years older than her daughter, she too seemed to absolutely love it.
What are her final thoughts on the set?
"Essentially this starter kit offers you everything you need to create about 10-15 dresses or items plus things that will last for years and years of designing using cheap cut offs. I think this makes it good value for money and worth buying for anyone who likes to design, even a mum! And if your eyes are as bad as mine the needle threader will be a bonus too."
And on the prices, Heyejung says this: "For £40 it is a big present, yes. But it is something that will just keep on going for ages and ages making it an excellent investment for hours of fun. This is no toy that will expire after a period of time and the options for creativity mean that it is unlikely to get boring anytime soon."

Available from Hobbycraft and Amazon.