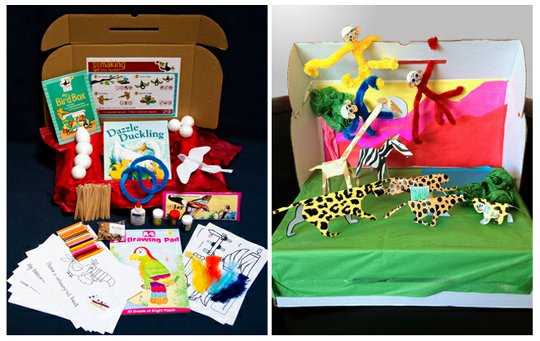 Toucan Box is a rather interesting and brilliant idea for the creatively challenged parents out here *ahem*.  They're offering PlayPennies readers an exclusive 25% off a one month subscription on the Toucan Box so you can try it out.
See what you think about the Toucan Box
Discount: 25% Off
Valid on: Monthly subscription
Discount code: plpe25
Basically, what the Toucan Box is, is a themed monthly box delivered to your door, full of crafty adventures for 3 – 6 year olds. It includes everything you need for the activities and they say all you need to add is imagination!
The single box is £19.95 (and you can add extra materials for extra siblings at £9.95 per child), so with the discount applied, you'll pay £14.96 for the monthly subscription.  If you buy the box and extras, your total would be £29.90 with the discount applied it's £22.43.
It seems like a lot of money, but when you look at what's in the box and add up all the bits and the multiple trips to the shops, added to the  convenience it may actually be totally worth it!