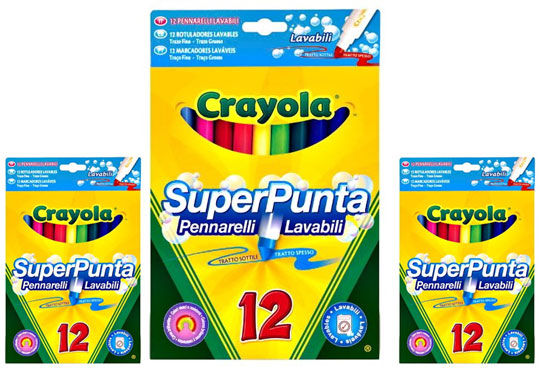 Okay, QUICK!  This is a great little deal on packs of 12 Crayola Supertips washable pens - £1.49 instead of £3.22.
Kids and felt-tipped pens can be a deadly combination!  My daughter, Elise, isn't going to thank me for telling you this (should she read this post):  when she was six, she decided she was going to leave a trail of kisses around the house.  The thing is, she decided to do this with a black felt-tipped pen!
The kisses trail started on the cream lampshade in the lounge, went out of the lounge, along the hallway, up the stairs, along the first landing wall and down the break-away landing to the bathroom - I have a photograph of her trying to wash them off the aforementioned wall, whilst looking very sad and sorry for herself.
If she'd used a Crayola Supertip, then she might have had an easier time of removing all her kisses - their ink washes off skin and clothes easily and are suitable for young creatives aged four and older; HURRAH!
All of the usual Amazon delivery options are available to you - although paying for delivery will not make this such a good deal.
Thanks to khye_shayela at HUKD