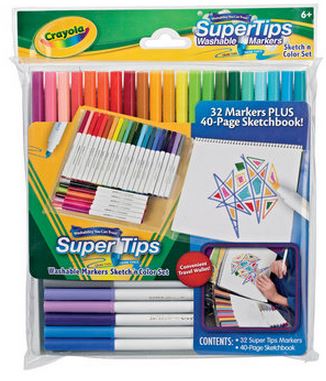 Toys R Us has a half price sale on loads of toys, and as we spiral downwards into winter, the Crayola Supertips Sketch N Shade grabbed my attention, as something that can be done indoors, in front of a fire.
This Crayola Supertips Sketch N Colour Set is a great drawing and colouring set, and the 11 reviewers on the Toys R Us website have given it a near perfect score. No one has anything negative to say about it, but things like 'great colours' and 'excellent value' come up a lot.
The set contains 32 multicoloured markers and a 40 page sketchbook, which the reviewers say keeps kids busy for ages. The markers are washable, which means accidents aren't the end of the world.
The set comes in a travel case, making it easy to take with you as you go.