Crayola Hippo Baby And Me £3.99 @ Argos eBay Outlet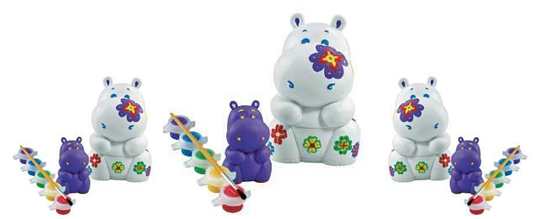 Oh this Crayola Hippo Baby and Me is just CUTE! The Argos eBay outlet are selling this little ceramic painting kit for £3.99 - the other suspects have them priced at between £12 and £14.
I'd pop over there quickly if you want one of these Crayola Hippo Baby and Me sets, things like this tend to sell out pretty sharpish and once all their stock is gone, that's it.
I loved being given things like this for either my birthday or Christmas - activity/arts and craft pressies are just awesome - and I've have spent a happy Christmas day afternoon painting and decorating Mummy Hippo and her baby.
You get five little pots of paint and a brush and can create and paint whatever designs and patterns you wish for your hippos.  The Mummy Hippo also has a secret hide-inside feature for stashing away precious things, Baby Hippo can hide in there too.
The Crayola Hippo Baby and Me kit is suitable for kids aged four years and older and will be delivered to your home for a mere 99 pence; you can pay with PayPal too if you want to.
Thanks to andywedge at HUKD