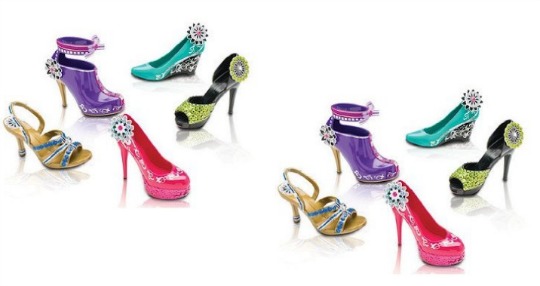 Is it wrong that I really want to buy this set for me? Look at it! You get to design your own shoes. Why oh why, wasn't there sets like this when I was little?
Amazon are selling Crayola Creations Hot Heels design set for £9.99 just now. Just 1p under the £10 free delivery threshold. Smyths have this for £9.99 just now but the delivery is £4.99 so Amazon is your best bet. Argos are a whopping £19.99 for this. This is a five shoe pack, whereas the two shoe packs are retailing for £9.99 at John Lewis.
So what's in this set? You get five miniature shoes to decorate. To help you along with modifying these little footwear replicas, included is:  glitter metallic stickers, clear printed stickers, four ribbons, double sided tape, gem stickers and a whopping 250 sequins.
Think of how glitzy your child could make these little shoes with all those sparkly bits and bobs. Once they have dolled up the miniature shoes, they can display them in their bedroom. I think these would look so cute in a little girl's room.
I will point out that this is recommended for six years old and above. Whilst younger children would have the dexterity and imagination to use this craft set, I feel it wouldn't be advisable due to all of the small pieces.
A set like this is great for those rainy days to occupy bored little ones. I can see this being an enjoyable set to do together with your child. I know I would love it.
Why not add a 1p Vodaphone sim card to get your order delivered for free? Then you will be able to take advantage of those Vodaphone exclusive offers. These lots of wee cheap add ons you can buy to bring your purchase up to the £10 or over mark.