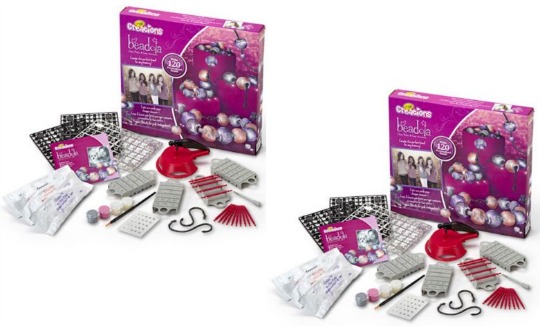 Charm Bracelets are 'in' and I know that I loved kits like this when I was a kid. This Crayola Creations Beadola Charm Maker is great for entertaining children from the age of six years old. Get it from Tesco Direct for only £7.50 instead of The Entertainer at £20, Amazon £13.99 or Argos for £13.99.
The Crayola Creations Beadola Charm Maker has a very impressive 4.6 star rating on the Tesco Direct site which suggests to me that this is a great buy  for those older kids.
This kit contains everything you need to make charms and there are 120 unique bead designs and 3 different air clay colours. You get a Bead Punch, 2 Bracelet Charms, 3 Packets of Air-Dry Clay, 4 Bead Design Plates, 16 Drying Spools, a Paintbrush, 4 Glaze Paint Pots, 25 Stick On Gems and 180 Grommets.
If you think half term is going to be hard work then kits like this are just the business to keep the "I'm boreds" at bay. This would be great to tuck away for an older child's birthday too.
You can Click and Collect the Crayola Creations Beadola Charm Maker for FREE from Tesco Direct or pay £3 for home delivery.