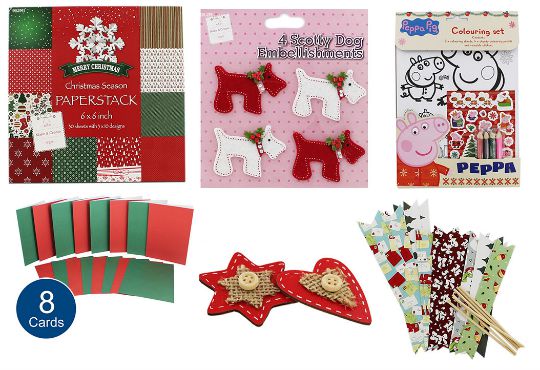 It's lovely to make Christmas crafts with the children but it can be a bit pricey if you have to spend a lot on supplies. Luckily The Works have just got loads of Christmas craft supplies in and there are tons for just £1 a pack. To make it even better with our exclusive voucher code PLAY20 you get a further 20% off so prices are from 80p, including all the items in the picture above!
The Create You Own Christmas Cards* are great for the kids to make special cards for family, friends or teachers, and those come out at 80p for a pack of 8. If you want ribbons, stockings, santas, and all sorts of bits to stick on to those cards or to make decorations with then there are dozens of different types to choose from, again from just 80p a packet with our voucher code.
As well as craft supplies to make your own projects there are also craft kits with everything you need to make a complete decoration or gift, and again these start from just 80p! That's so much cheaper than buying a comic or something, will keep the children occupied for just as long and they will have something to show for it when they have finished.
I haven't a clue what I would make with the bags of Christmas Buttons, but I have a mind to snap some up anyway and think of a project later as they are just so pretty! I'm sure even someone as talentless as myself could make something gorgeous with those and some festive ribbon. I'm thinking a Christmas wreath of some sort. Mmm, my thinking cap is firmly on so watch this space!
All of these items can be collected from The Works stores for free, home delivery is free when you spend £20 or more, otherwise charges are from £2.99.
Remember to use that Playpennies Exclusive voucher code PLAY20 code to get the extra 20% off you order.