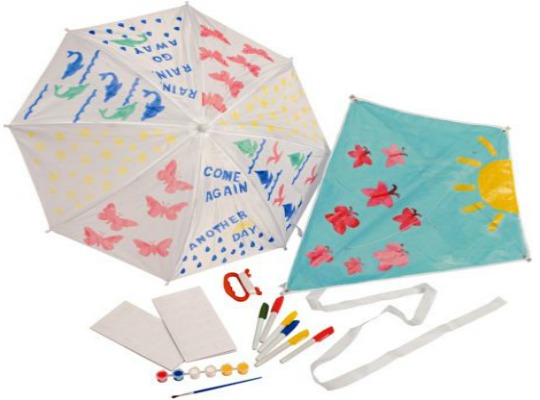 It's a known fact that with Spring comes wind and rain, but it's just the way it is. Don't be sad about it, make the most of it and get those kites out. Or buy this bargain.... the Chad Valley Paint your Own Umbrella and Kite Set. It's now only £2.99 from Argos and you get both a kite and an umbrella in this kit. That is incredible value and I for one am a fan after picking this up at £3.99. It's clear to see that it would be worth it even at a higher selling price.
The Chad Valley Paint your Own Umbrella and Kite Set contains a Kite, and Umbrella, special colouring pens, paints, stencils and a brush. This keeps the kids occupied for a good wee while and they get the satisfaction of being able to use what they have created.
I was so impressed with these that I am tempted to buy more this time. If you are struggling for party activities why not get the kids to do these kits, after all it's so affordable.
You can only reserve and collect these, which a FREE service, from your local Argos store.
Thanks to chrispollard86 @ HUKD