Chad Valley Paint Your Own Gnome/Birdhouse £2.99 @ Argos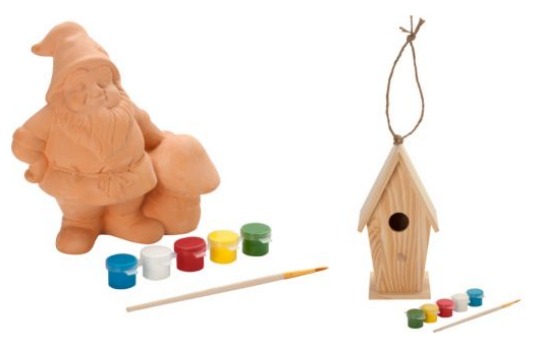 This summer hasn't been too bad weather-wise, but that hasn't stopped my brood from complaining of boredom. It's always handy to have something that can be used on a nice or a wet day. What about the cost of occupying our little people? It's too costly to go out every day, so a homely activity can provide the entertainment for a fraction of the price.
Argos have Chad Valley Paint Your Own Kits for only £2.99. They were £4.99, then £3.32 before becoming reduced again. There's a choice of two sets, a gnome or a birdhouse. What I like about these, as well as the price, is they are functional. The gnome can be placed outside as a garden ornament and the birdhouse to home little feathered friends.
Each set contains: a ceramic gnome or a wooden birdhouse (depending which kit you choose), five little pots of paint and a paintbrush. The kids can paint their own designs on to the item then put it to use. I would recommend coating it in a protective coating like varnish as I can't see the paint included in the kit being waterproof.
These would make a great activity for a kid's party or even as a present for someone.
Reserve and collect from your local Argos for free or pay £3.95 for delivery.