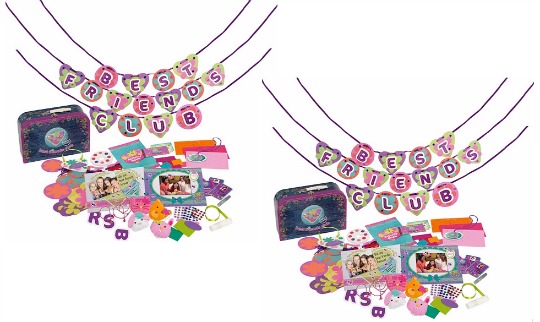 My eldest is nine and at his last birthday he wanted a sleepover. I reckon that's a sure sign of growing up. If yours is having a sleepover then you might want to consider buying this Chad Valley Best Friends Club Set from Argos. It's £2.99, reduced from £9.99 and the ideal piece of kit to keep noisy girls entertained for a wee while. At least until you have watch Coronation Street.
The Chad Valley Best Friends Club Set contains Scrapbook, four Pets Sewing kits, Door Hanger, Activity book, Membership cards, Voucher Book and more.
They can make friendship bracelets or make necklaces with charms. In fact in total there are six activities to do. This wouldn't just be good for a sleepover but for a birthday party. At £2.99, it would be a cheap way to provide something fun to do, even if you bought a couple.
You can Reserve and Collect the Chad Valley Best Friends Club Set for FREE from your nearest Argos, or pay £3.95 to have it delivered to your front door.
Thanks to NinurtaEnki @ HUKD