Chad Valley Craft Lap Tray And 1000 Crafts £9.99 @ Argos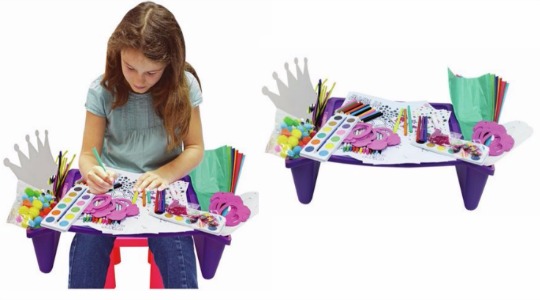 Picture this... you are in the kitchen ironing, you have piles of neatly ironed clothes on the table, in pops your little one with their felt tips, paper and the likes. ARGH! You don't want to put them off being creative so what do you do? Chad Valley have the solution to this problem, the Craft Lap Tray and 1000 Crafts. Argos have it half price just now, so instead of £19.99 you are getting it for just £9.99.
The Chad Valley Lap Tray and 1000 Crafts has great reviews and we reckon it would make a super Christmas present for any child. It's ideal for those of you that don't have the room for a kitchen table or desk.
It contains 1000 pieces of craft bits and pieces and your child will be able to let their creativity flow. The Lap Tray itself has sections to keep things in order, as your little one makes something nice.
You can Reserve and Collect the Chad Valley Craft Lap Tay and 1000 Crafts for FREE from an Argos store near you or pay £3.95 to have it delivered to your front door.