Chad Valley 500 Piece Card Making Kit £4.99 @ Argos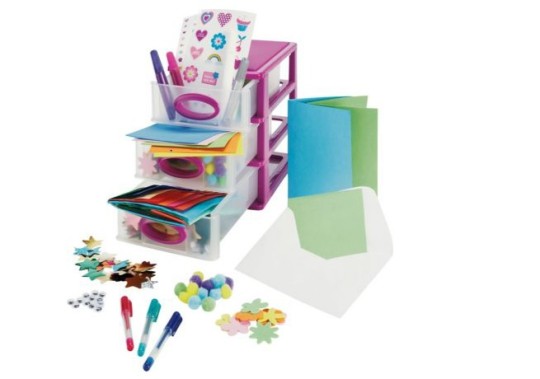 We're all going on a summer holiday... well, maybe not, and if not, you're probably looking for cheap ways to keep the kids busy on the long and lovely summer days. Argos can help you out with the 500 piece card making kit from Chad Valley half price for £4.99.
Whatever the occasion, kids can make gorgeous handmade greeting cards for their friends and family with the Chad Valley 500 piece card making kit. It's packed full of different materials, colours and textures for some real creative craft fun! Their creations will not only be more personalised and thoughtful but it's also a great craft gift that will keep children busy and amused for hours.
The reviews on it are pretty good too. Most of the people who've bought it say it's great value and they also like the drawers that come with it, saying it's ideal for storing everything in.
They also say they are pleasantly surprised with everything that comes with the set and say that it's great value for money. One reviewer bought one for her daughter and six more since for birthday presents. That's saying something, I think.
As always with Argos, there's free click and collect, or you can have it delivered for £3.95.