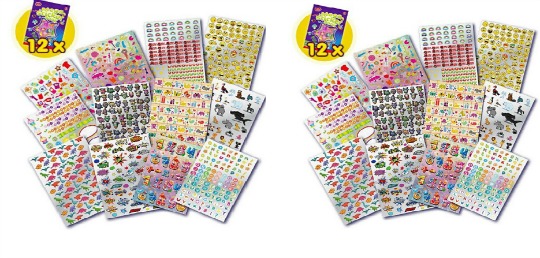 I figured out a good while back what I was doing wrong with my kids, I needed stickers. Everywhere I take my kids, where they are nothing but compliant has stickers. Speech therapist - stickers, Dentist - Stickers, Doctors - Stickers and not forgetting schools. Get the Chad Valley 10000 Piece Sticker Book for just £3.33, reduced from £9.99 at Argos, and maybe your children will do as you ask.
My kids go daft for stickers. I think they see them as a reward and that's a good thing. You don't have to use the Chad Valley 10000 Sticker Book in this way of course. You can use it for decorating school jotters or for arts and crafts at home.
You get 12 books of stickers to choose from. In every book is a choice of  10 sticker themes inside which include the alphabet, numbers, food, animals, monsters, shapes and more. In the front page of all 12 books are fancy stickers that are  holographic, foil, glow in the dark and glitter.
The Chad Valley 10000 Sticker Book is rated 4.6 out of 5 stars on the Argos website, which means they must me pretty good value for money.
You can Reserve and Collect the Chad Valley 10000 Sticker Book for FREE from any Argos store or your can have it delivered to your home for £3.95.