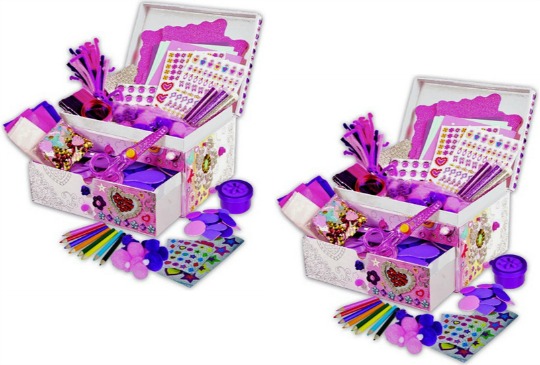 With the weather being absolutely rubbish at present the kids get bored at the weekends, you need to do your best to keep them occupied. If like me the weekend is when you cram in the housework, washing the dog and a million other things, going out both Saturday and Sunday with the kids just isn't an option. This Chad Valley 1000 piece Sparkle Box is just the ticket to keep the kids busy and happy. This five star rated craft kit has been reduced at Argos from just £12.99 now £6.49.
The Chad Valley 1000 piece Sparkle Box has been rated five stars on Argos so you know that it's going to be worth every penny. The reviews suggest it's not only great value but will keep your little one going for hours. Who knows what glittery delights they might make you with such a sparkly kit.
So what exactly is in this box of tricks? You get the trunk and sequins, holographic and glitter mosaic shapes for to decorate it. With 1000 pieces in this kit your child will be able make so much more. The set includes Pink Scissors, Paint with stamper, Pieces of felt,  A4 Tissue and  A4 Coloured paper plus Pink wiggly eyes. Sounds like fun.
You can reserve and collect the Chad Valley 1000 Piece Sparkle Box from your local Argos for FREE or pay £3.95 for home delivery.