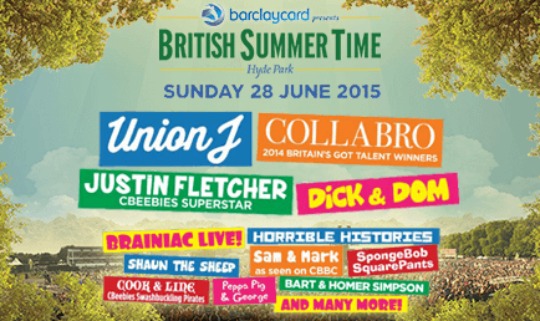 Got anything planned for 28th June? If you're anywhere near London then there is a huge family event going on at Hyde Park, and you can get tickets for half price if you book them now at Little Bird!
The event is British Summer Time, and there are so many children's favourites packed in to the day. The tickets normally cost £19.50, but you can get them for just £10 at Little Bird.
Want to know who's going to be there? How about Justin Fletcher, Union J, Dick and Dom, Peppa Pig, Horrible Histories, BrainiacLive, SpongeBob Squarepants, the pirates from Swashbuckle, Shaun The Sheep, Sam and Mark from CBBC, Bart Simpson  and more! Personally I think I would pay a lot more than £10 a ticket for an event with those names there, as my kids would be over the moon.
It looks like there are acts and attractions for all ages of children, which is great if you have older kids or teens to entertain as well, and there are full details of everything that's happening on the link above.
So what do you think? Fancy a day out for £10 each? Looks like fantastic value. See you soon Mr Tumble!