Ben 10 Pencil Case £4.00 @ Tesco Direct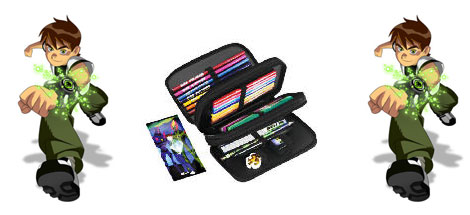 The last time I wrote about this Ben 10 pencil case it FLEW out of stock, so PLEASE don't hang around if you want one!
This Ben 10 Pencil Case isn't just any old boring pencil case, oh no!
It's a triple decker beast of a pencil case and has more pens, pencils and bits and pieces in it than you can shake a pencil sharpener at!
It actually contains a notepad, ballpoint pen, pencil, ruler, set square, protractor, sharpener, eraser, 14 felt tip pens, and 14 colouring pencils.
I have no idea whether this Ben 10 Pencil Case is available to buy in-store or not, but delivery TO a Tesco store of your choice is free - seriously, don't pay for home delivery otherwise your Ben 10 Pencil Case will end up being the most expensive set of pencils, rulers, rubbers and protractors you've ever bought.
The Ben 10 Pencil Case is up for grabs for half-price - £4.00 instead of £8.00 - and like I said they tend to vanish off the virtual shopping shelves pretty sharpish, so don't dawdle if you want one.
Thanks to lucersymum at HUKD