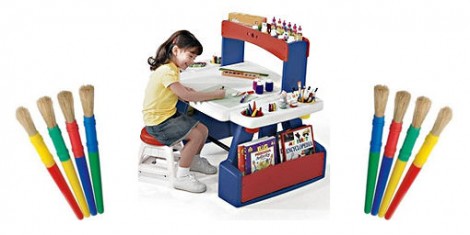 Sainsburys have a GREAT half price deal on this kids arts and crafts table at the moment - it WAS £119 but has been reduced right down to £59.50.
If your child is arty or loves to mess around making things then this is going to be awesome for them.
This rather fabulous arts and crafts table has a ton of storage space for books, pens, pencils, paints, brushes and all the other arty farty crafty bits and pieces that kids accumulate.
It can be used by one or two children at a time; clever re-positioning of the top storage shelf transforms this arts and crafts table to allow either one or two desk positions.
It will save you having to cover the kitchen, or dining room, table in newspaper everytime your child wants to get creative, and it will allow them to keep all their bits and pieces in one place - well, it will if you can convince them it's a good idea to put things away in their proper place each time (good luck with that!).
This kids arts and crafts table also comes with two little 11" stools.
You can collect your arts and crafts table for free from your local Sainsburys, standard delivery is also free or you can pay £4.95 for named next day delivery; so many choices!
Thanks to osullivan1986 at HUKD