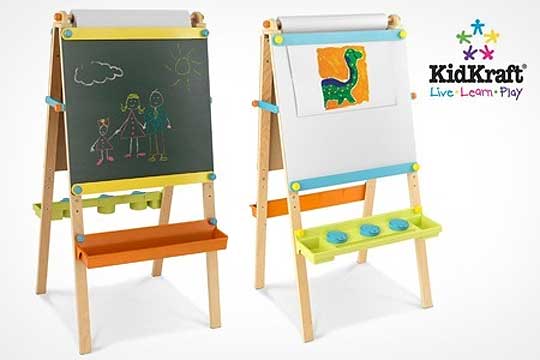 If you're after a substantial artist's easel for your child - rather than one of the cheaper, flimsy varieties - you should take a look at this one on offer from Groupon for £49.99 instead of £99.98 (I did say it was a substantial one!).
So, this particular artist's easel for kids is made from a robust wooden A-frame and has all the features you could possibly wish for in a kid's artist's easel.
It features a blackboard on one side, with a solid tray underneath for holding/storing all your chalks; on the other side is a dry-wipe white board with a tray underneath with three holes for holding the three paint pots, which are included.
At the very top of the A-frame sits a paper roll on a horizontal spindle, so it can be unrolled to cover either side, to allow for paper drawing or painting - there are wooden strips which hold the paper firmly in place too, so no having to try and draw whilst holding the paper flat with the other; marvellous.
You've got until the close of play today (that's 11.59pm in Groupon's world) to buy your artist's easel and get your special price Groupon voucher; then redeem it by 1 December and have it all wrapped under the Christmas tree by 24 December.
Oh, by the way, postage costs an additional £9.99 and you'll need to have your screwdriver at the ready when it arrives packed flat!