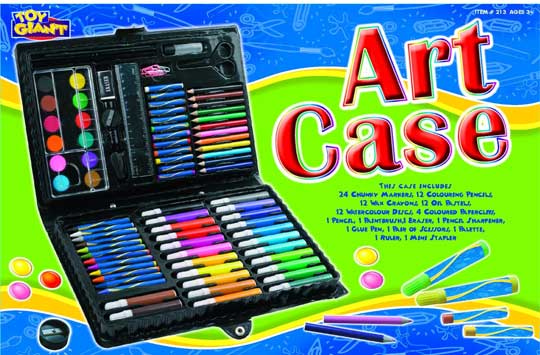 If you pop over to Amazon, you'll be able to pick up this 86-piece art case for £6.99 - whether or not this is the full price of this art case, I'm not sure.  What I am sure of, however, is that it's a great price for so many arty-crafty bits and pieces.
I don't think there is a small child in the land, or around the world for that matter, who doesn't enjoy drawing and creating their own artistic masterpieces.  My youngest son is very arty and loves nothing more than being commissioned to paint series of canvasses for relatives - in fact, I asked him to paint one for me just recently which is now hanging on my lounge wall.
My teenage daughter has recently completed her Art GCSE, some of the coursework she submitted was just stunning - she was always painting and drawing when she was a little girl, and was always overjoyed when she received things like this art case for Christmas - which was quite often!
This little art case from Amazon has everything in it for your budding Picasso, or Rembrandt, to dabble with various mediums, here's what it's contains:
24 Chunky Markers
12 Colouring Pencils
12 Wax Crayons
12 Oil Pastels
12 Watercolour Discs
4 Paperclips
Pencil
Paintbrush
Eraser
Pencil sharpener
Glue Pen
Pair of Safety Scissors
Mixing Palette
Ruler
Mini Stapler
Fabulous and, as the title suggests, it all comes in a case so everything can be kept neatly together - even more fabulous!
Happy creating arty masterpieces.