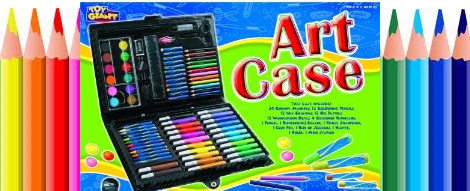 Calling all parents with budding Picassos! Amazon have a lovely little deal on an 86-piece art case.
I was trying to think of something funny to say that involved 'where art thou?' but, at the moment, it escapes me *sigh*
I don't think there is a small child in the land who doesn't like drawing and creating their own masterpieces.  My youngest adores it and his dad's kitchen is like an art gallery, every inch of wall space is covered with his works of art from nursery, home and school.
The mediums are all different too - glitter painting on black paper (fireworks, obviously), normal painting, finger painting, pencil drawings, drawings done in pen.
Patterns in paint created with stamps (do you remember potato printing!?) and collages made from bits of cut out paper.
This little art case from Amazon has everything in it for your budding Picasso, or Rembrandt, to dabble with various mediums, here's what it's contains:
24 Chunky Markers
12 Colouring Pencils
12 Wax Crayons
12 Oil Pastels
12 Watercolour Discs
4 Paperclips
Pencil
Paintbrush
Eraser
Pencil sharpener
Glue Pen
Pair of Safety Scissors
Mixing Palette
Ruler
Mini Stapler
Lovely! As the title suggests, it all comes in a case so everything can be kept neatly together.
Ideal as a little birthday gift, or Christmas stocking filler, this art case has been reduced from £6.99 to £5.73 - not much of a discount I agree, but it all adds up; 'watch the pennies and the pounds look after themselves' my nan would tell you.
Thanks to Taswir1 over at HUKD!