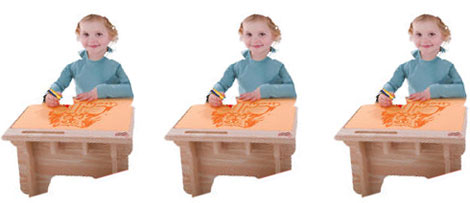 Tesco Direct are selling this Aquadoodle Desk for £15.97 instead of £26.97, saving you £11.
Aquadoodling is such a clever idea – super-fast to set up, no risk of your child redecorating the walls in their own unique style, no mess to clear up and you can use them again and again and again.
I loved drawing as a kid and I loved drawing WITH my kids too but sometimes the thought of getting everything organised - you know, covering everything with newspaper, finding an old shirt to put on them backwards so their clothes didn't painted too etc - was just far too much faff.  ESPECIALLY when, after five minutes, they'd decide they didn't want to DO painting anymore.
This Aquadoodle Desk is perfect for satisfying those quick drawing moments.
It's a foam board desk that's easy to assemble and comes with a double-sided Aquadoodle mat.  The desk top can also be removed so your child can continue to draw on their lap or on the go.
The Aquadoodle Desk is only going to be available whilst stocks last at Tesco Direct and delivery to your local store, so you can go in and collect it, is free.
Thanks to missgem at HUKD