Up To 50% Off Selected Arts & Crafts: Items From 60p @ Amazon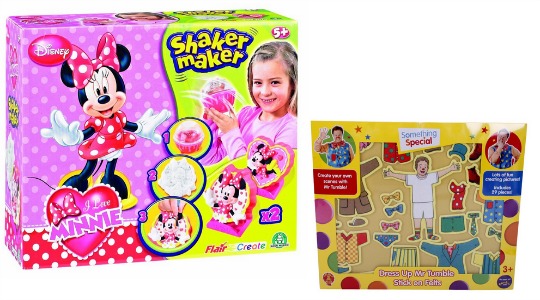 This summer hasn't been so good weather wise. We have had as much torrential rain as we have had sun. For those yucky days, get out the PVA glue and get crafting. The kids love it and it's a cheap way to entertain them indoors. If you don't know where to start then grab an Arts and Crafts set from Amazon. They have up to 50% off selected items, and they start from just 60p.
There are a total of 25 Arts and Crafts items included in this great offer, so it's well worth having a nosey. Some items are so cheap that they are "add-on" only which means they can only be ordered when part of an order totalling £20 or more. Here's some of those cheap "add-ons": Crayola Project Friendship Bracelet Set* now only £2.95, Monster High Velvet Art Postcard Set* now only £2.50, Creativity for Kids Flower Bracelet Kit* just £4.68 and 4M Easy to Make Teddy Bear* now £3.06.
Even if you don't need any Arts and Crafts bits and bobs, some of these sets are really nice to use as birthday party presents.
You get FREE delivery on your order if you have Amazon Prime. If you don't have AP you have to spend £20 to get FREE delivery or pay £3.30 for orders under the £20 mark.