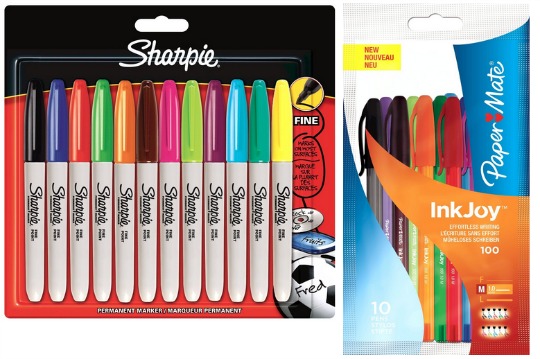 Who doesn't love stationery? I have a best friend who goes wild for the stuff. I am not sure what it is specifically that I like about it but I do. Great news for those of you that do love nice writing paraphernalia, Amazon have up to 40% off Selected Stationery Lines.  That includes brands like Paper-Mate and Sharpie. Items start from only £2, not bad huh?
You always need stationery, you can NEVER have too much especially when the kids give it away at school or lose it all the time. My kids drive me nuts for that. Anyway, I always replenish what they lose because they need it for school and for homework.
Here are my top picks: Sharpie Fine Permanent Markers Pack of 12* now £5.09, Paper-Mate Inkjoy 100 Capped Ball Bag of 10* now £2, Berol Colour Broad Pen (Assorted Colours) Pack of 12* now £4.25 and BiC Velleda Pack of 8 Whiteboard Markers* now £4.79.
Spend £10 to get FREE delivery on your Stationery order. There's plenty to choose from, 49 to be precise, that are included in the reductions. Stock up for the new term now!