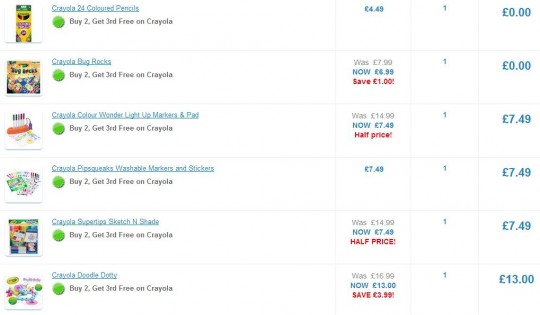 There are a number of special offers ongoing at Toys R Us at the moment, but they are all nearing their end. There's a Crayolla 3 For 2 offer, which ends on the 18th of September. If you put three items in your basket, Toys R Us will automatically update it so the cheapest is free.
You can also use the £5 off £30 Spend with code BIRTHDAY8 that Heidi told you about last week to take £5 off orders over £30, and until midnight on Sunday 15 September, there's free delivery on everything.
This is actually a really good offer, I think!
I've just added six items to my basket at Toys R Us, with a combined original value of £66.49. Some items have discounts applied, with up to half off, or a pound or two off. The combined total value of items added to the basket, therefore was £47.45. The two cheapest items are reduced to zero, subtracting £11.48 from the total, reducing the basket to £35.47.
Add the code BIRTHDAY8 to remove another £5, and the basket total is £30.47 for six gifts, stocking fillers and the topping up of the craft drawer.
All in all a good haul in my opinion!
Thanks to goonertillidie at HUKD