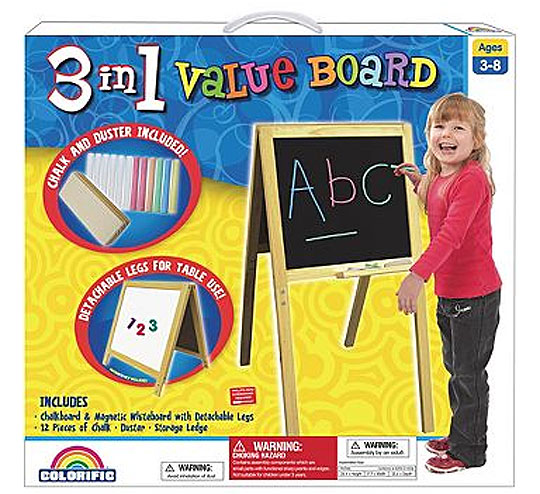 Debenhams are selling this 3 in 1 art board for £9.60 - its original price was £32!
If you have a budding Picasso or Monet in your family then they might like to hone their artistic skills on this 3 in 1 art board.  It has a white board on one side (sorry, a 'dry wipe board'), a black board on the other (sorry, a 'chalk board' - political correctness gone MAD!).
It comes with six white chalks, six coloured chalks and a duster - you'll have to supply your own dry wipe pens.   It measures H35.4" x W17.7" x D23.6" and can be used either fully standing or on a table (you can take the legs off, you see!).
Reviews are good and is ideal if you want to save the planet by using less paper:
My daughter simply loved it. She wished to have a chalk board for so long and I got a great deal on this item & also took two more as a gift purpose

This was bought for our grandaughter who is having lots of fun with it. Hope it lasts a long time
Standard four working-day delivery is free, as is in-store collection from the Debenhams of your choice - so it's up to you which one you choose; either way there's nothing additional to pay, unless you want your 3 in 1 art board pronto!
Happy being arty-farty!