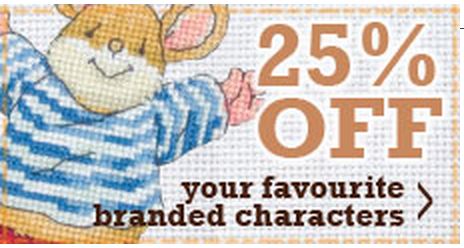 I Love Cross Stitch is offering 25% off selected Character cross stitch kits, bringing the prices down to as low as £3.19 for something small for beginners, and all the way up to £37.50 for a more ambitious project.
I never really got into cross stitch myself, but I have very vivid memories of my mum doing tapestries and wall  hangings at various stages of my childhood. She seemed to enjoy it, and I guess it's cathartic? Sewing crafts seem to be coming back into fashion of late too, with loads of classes for beginners popping up and I even have friends who attend sewing circles! I haven't succumbed to the joys yet.
Browsing through the 128 items at I Love Cross Stitch included in the sale, there are some really gorgeous pictures. The characters included are Boofle,Country Companions, Disney, Winnie the Pooh, Beatrix Potter, Forever Friends and Tatty Teddy.
They're not that pricey, would make a lovely gift and a really nice project to do with your little one on colder, darker, longer evenings.