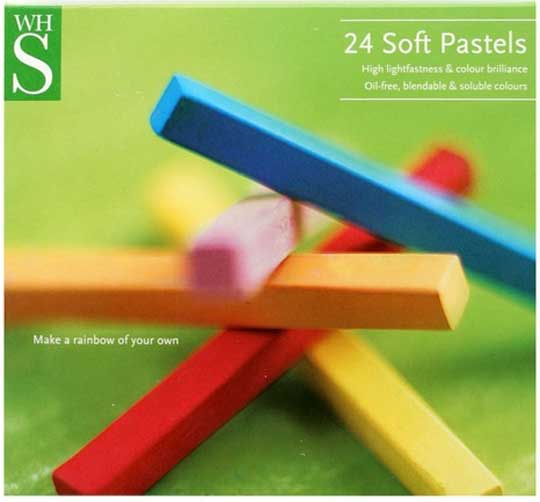 WHSmith are selling sets of 24 soft pastels for just £3.37 instead of £13.49 - what an arty-crafty bargain!
Colouring and drawing with pastels is, as far as I'm concerned, one of the greatest pleasures in this world.  I've owned pastels for years and they are, most definitely, my favourite dry colour medium.
Now I know that pastel colours are often considered grown-up colouring tools, but all of my children got to grips with them from a very early age.  I don't see any reason why kids shouldn't, and can't, be shown how to create, colour and draw with things a little more advanced than chunky crayons and cheap, scratchy chalk, if they show an interest.
My daughter drew the most wonderful pastel pictures when she was small - they were very late Turneresque in their style; I've still got them tucked away safely, and her six-year-old younger brother is also creating some fabulous pastel works to add to my personal art collection.
Of course, you don't have to buy these pastels for your children at all - you could just buy a set for yourself, like I'm going to!
There are various collection and delivery options available:
Collect your pastels in-store for free - 1 to 5 days after you place your order
Free delivery to your home if you order other things which bring your total to more than £15
Saver home delivery for £3.99 if your order is less than £15
First class delivery for £5.99; or
Courier delivery for £7.99
I think stick to either in-store collection or saver delivery, if you really can't get yourself to a Smiths store!
Thanks to taswir1 at HUKD