The Early Learning Centre has a fab sale on just now, with 20% of selected li
nes in their Art & Creativity range.
There's so much to choose from but I especially like the look of this Super Scribbler.
Suitable for children aged 3 and above, the Super Scribbler allows your child to create pictures and patterns, then simply swipe the screen and they're gone.
It comes with a pen, 3 in 1 pattern roller, four stamps and an automatic return eraser.
It's made from chunky durable plastic, making it ideal for little hands and it's apparently a useful means of helping children improve their fine motor skills.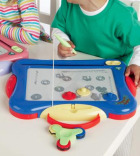 It's usually £17.00 but it's reduced to £13.60 in this sale and I reckon it would be a brilliant buy for a little one with Christmas money to spend. A kid can have too many toys but I don't think they ever tire of getting arty and creative.
There are loads of other lovely creative bits and pieces in the sale so it's worth having a good nose around. I've already got my eye on a couple of birthday present bargains for later in the year.