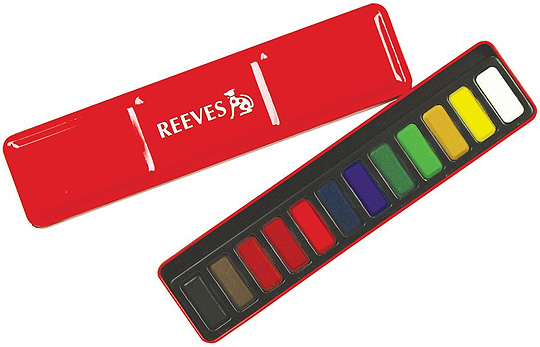 If you missed this a couple of months ago, then here's another chance for you to grab this 12-block palette of artist's watercolours for £2.37, rather than £7.99.
I fell in love with painting when I was about seven and wanted to copy the watercolour pictures my mum was painting. We used to sit down together at the kitchen table, listen to classical music and just PAINT; they were wonderful times and if I had the time now, I'd paint again.
Watercolours are just so easy and forgiving to work with - perfect for little ones getting to grips with something a little more sophisticated than chunky crayons, or magic paint books that just require water sploshed onto the page to reveal the colour.
So if you've got a budding Picasso in your family, or you're partial to a bit of watercolour painting yourself, then grab one of these sets before the price goes up again - you know what Amazon are like with their rollercoaster pricing!
I just love this review, it made me laugh so much:
Normally our girl's painting sessions are a complicated affair involving squidgy bottles of poster paint and inexplicable quantities of water. In an effort to reduce the colateral damage to our furniture, I decided to invest in this set of watercolours.

Instant success! Now, if she wants to paint, it no longer takes 10 minutes to set up the aforementioned paraphernalia. We just open the lid, and get a small jar of rinsing water. She also likes it because there are instantly more colours available, and they are easier to mix. Ok, the colours aren't as intense as her poster paints. However, she still produces nice pictures.

The bottom line is that with a kit like this, it is easier for your kids to paint, and less messy for you as a parent.  Can't be bad. 
Thanks to xennevdl at HUKD