1000 Bendaroos For £7.50 (500 For £5) @ The Entertainer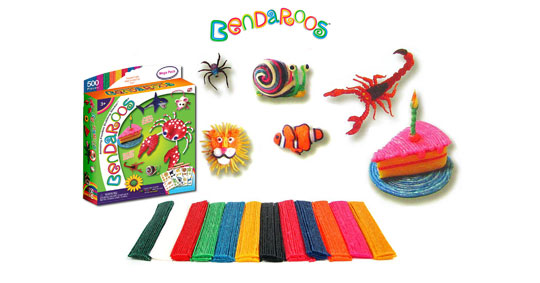 If you head over to The Entertainer/The Toy Shop then you'll be able to pick up some Bendaroos: either 500 for £5 or 1000 for £7.50.
Now, Bendaroos come in 500-piece mega packs and usually cost £15 - the deal here is: buy one Bendaroos mega pack for £5 or, if you like, you can buy two for just £7.50; a proper arty-farty bargain!
Bendaroos, in case you haven't come across them before, are coloured string coated in wax that you can bend and shape into 2D or 3D models or shapes.  They stick to paper, glass, plastic, and each other, they also unstick so you can use them again to make new models.
You know what?  I'm going to buy 1000 Bendaroos for myself and the same for my youngest son, Edward - they're just the thing I can 'doodle' with at my desk when I'm wasting hours of my life in a phone queue, or when I just need to 'step away' from everything for 10 minutes and do something less boring instead!
Each Bendaroos mega pack contains 500 of the bendy little dudes in 12 different colours - half in rainbow colours and half in neon.  They also come with a handy guide to give you some ideas for models to bend your Bendaroos into, just in case you suffer a temporary loss of inspiration.
Thanks, a lot, to sarahmm at HUKD (that's not me, I promise!)