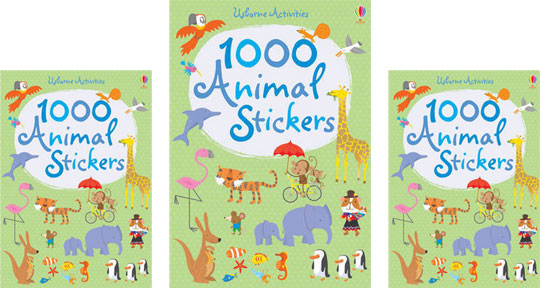 If you have someone in your family who's a little bit sticker mad, then you might want to pick up one of these 1000 Animal Stickers sticker books and surprise them - The Book People are selling them for £3.99 rather than £9.99.
My youngest niece is sticker crazy, she has been for a good couple of years now, and I know she'd be the happiest little girlie on the planet if she had one of these 1000 Animal Stickers sticker books to get her teeth into.
This paperback sticker book, from Usborne, has themed pages with lots of different scenes for your sticker nut to bring to life with the stickers - there's an Australian Outback scene, a rainforest scene and, by all accounts, a hamster cage scene (if I had this 1000 Animal Stickers sticker book, I'd stick the hamster OUTSIDE the cage!).
I can't imagine you'd be able to use all 1000 stickers on the pages of your 1000 Animal Stickers sticker book and the official blurb confirms this - it says, and I quote, "There are also extra stickers that can be used to make cards and pictures or to add to letters, envelopes and postcards."  Marvellous!
If this is all you buy from The Book People then a single item delivery charge will apply, which is £1.99.
Happy sticking!