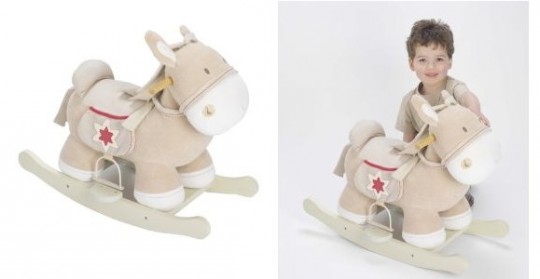 The Lollipop Lane Bertie Horse Rocker at Amazon has 43% off it at the moment, taking it from £89.99 to £50.99 including delivery
These are really very cute rockers and they are made specifically for smaller babies and children.  Suitable from around 9 months of age, the Lollipop Lane Bertie horse rocker is a padded rocking horse with crinkle fabric ears, wooden handgrips and stirrups with reins to stimulate play.
The side pockets on the Bertie model's saddle have a magnetic 'Sheriff' badge to encourage imagination – a little later down the line… don't think they'll have much effect on a 9 month old!
These weigh around 6kg, so they're quite sturdy and the seat height is around 32cm. The assembled size is 54cm high by 28cm wide and 63cm deep.
The pink version of this is also reduced, but only to £74.99, which is 17%.