Over the summer, I started using the Kodak Playsport pocket video camera - a great all rounder and perfect underwater gadget.
If you're after a pocket-sized camera that's light and easy to transport, takes great home movies perfect for Youtube, and pretty decent stills, the Playsport ticks all the right boxes. If your baby is taking swimming lessons, or your family is off for some fun in the sun, you will love this. It is built to withstand a bit of rough and tumble, so would suit mountain climbers, skiers and children alike.
The Playsport takes 5MP stills and video at full 1080p HD, and at 30 frames a second too – more than enough quality for those general outdoor or underwater clips (up to 10ft). For a bit more creative flexibility, there's also the option of 60 frames per second at the slightly lower 1280 x 720 quality (720p), giving you the potential for some nice underwater slo-mos.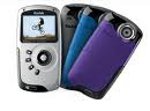 The Kodak Playsport has a few more features than some other pocket cameras, such as the glare shield, 4x digital zoom, built-in face detection and electronic image stabilisation. Alternatively just point and shoot, and the Playsport will pretty much do all the hard work for you.
Usability is a massive plus point. It's small enough for one hand, turns on and off quickly so you're not going to miss all the great pool-action before it is finally ready. Add a 32GB card and you can have about ten hours recording time, while the camera also has good battery life which will recharge in the time you're off enjoying the local cuisine.
I think it's a great pocket camera. We have had loads of fun with it over the past few months and have recorded some pretty memorable moments, particularly of my water baby in the photos you can see  above.