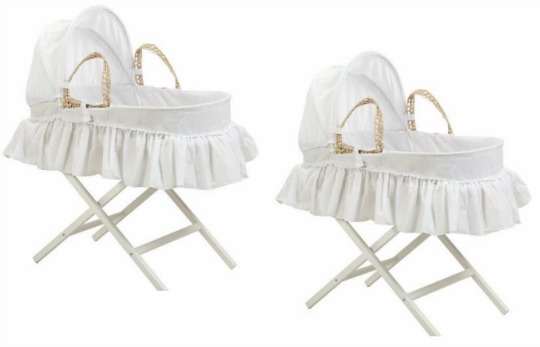 What can £10 get you these days? A child's haircut? A dribble of petrol in your car? How about a Moses Basket? That's right, for just a tenner you can get a BRAND NEW Moses Basket from Kiddicare. We had to check this wasn't a toy and it's not. It's a full size Moses Basket for the cheapest price I have ever seen. Buy one now if you are pregnant and tell any friends that are expecting. We can't see this lasting long at this price so be quick.
So, what do you actually get for the £10? The Basket plus Hood, Liner and Coverlet. I am in shock at how cheap this is. We were around £60 for the one we had for our youngest. It doesn't come with the stand but they rarely do, even at £60. You can pick a stand up cheap from Home Bargains, Mothercare and so on.
Another bargain we found on Kiddicare was this Pink Travel Cot* for just £22. Ideal for those festive visits to relatives or any future holidays.
Delivery is only £2.99 or FREE when you spend £49 or above.