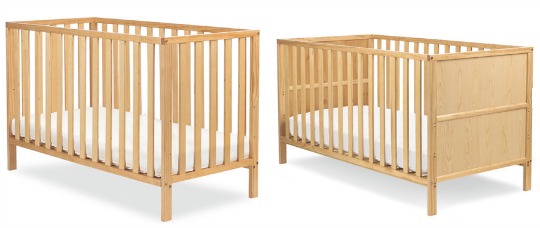 If you are on a budget then getting everything you need for a new baby can be very tricky, but Mothercare has some great bargains in their Sale on nursery furniture, and these two are just about the cheapest you can get!
The Hertford Cot is reduced from £59 to £40, and the Hertford Cot Bed is reduced from £99 to £65. I think these are fantastic prices for cots, and it's very rare that I've seen them this cheap.
Both are made from solid pine, and the mattress height can be adjusted to three different levels as your baby grows and learns to sit and stand. The cot bed is designed so that the sides can be removed to convert it from a cot to a toddler bed once your child is ready (or starts trying to climb out of the cot!)
The cot bed is the best value for money as it will be suitable for your child all the way from birth to around 5 years of age, so £65 with Free Delivery is an absolute bargain. The Cot falls below the £50 minimum spend for free delivery, so charges are from £2.95.
These are basic cots, and the only issue for some will be the lack of a drop side - the sides are fixed on both. The cot we have used for both of our children was designed with a drop side as we thought we needed it, but the mechanism stopped working properly (just outside the guarantee period) and we had to fix the sides anyway to make it secure and safe. We haven't missed the drop sides at all.
Mothercare are also advertising both the Hertford Cot and Cot Bed as furniture bundles with the Changing Table for £20 extra, but the table is out of stock so you can't purchase the bundles right now.