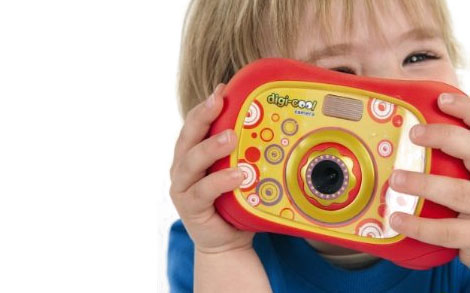 Those lovely folks at the Early Learning Centre are selling this Digicool Camera for half price; £22.50 instead of £45 AND they're giving away a free case with it too.
Part of my non-PlayPennies life (yes, there is such a thing) is spent as a photographer, so I tend to keep a look-out for good kids camera deals and this Digicool Camera is one such deal.
It's a great little hard-wearing camera, so it won't be the end of the world if it gets dropped now and again, and is nice and easy for little hands to grip.
Your budding David Bailey will be able to take, view and edit their own photos as the Digicool Camera has easy to use in-built photo editor, silly frames and stamps and two kaleidoscope effects.
It also has a built-in automatic flash, a 2 x digital zoom and 64MB of internal memory which will hold over 400 photos - I think that should be enough to get little kids aged three and over started.
The Digicool Camera also includes a USB cable for connecting it to your PC so you can store and print your child's photographic masterpieces.
Happy snapping!