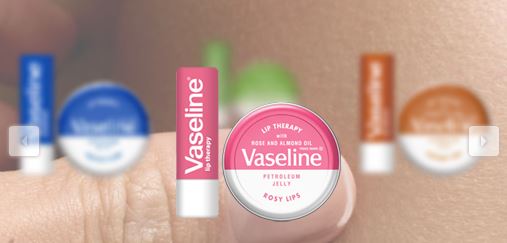 Vaseline is a well known brand that's been around forever. I remember it from my own childhood, even. I reviewed the cocobutter range a while ago, and while I wasn't sold on it, I much prefer the ones here.
I received four products to review: Aloe Fresh Essential Moisture Lotion, Healthy Hands Aloe Hand Cream, Healthy Hands And Stronger Nails Hand Cream and Rosy Lips Lip Therapy.
My two pregnancies left me with a very sensitive sense of smell. I had Hyperemesis Gravidarum, which heightened my sense of smell so much, I could smell when any of our neighbours were cooking meat, or using garlic. I could even smell the water in the fish tank. It was not fun. One of the hangovers from that s that any moisturisers, creams, or even tooth paste that I used during the worst parts of the pregnancy I cannot use anymore.  Even new fragrances can make my stomach lurch a little.
That happens with the aloe fragrance, unfortunately, but despite that, I like the moisturiser.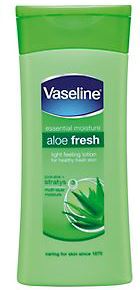 The Aloe Fresh Essential Moisture Light Feeling Lotion* (£2.99 for 200ml) is exactly that. It is light and deeply moisturising. It is the perfect moisturiser for summer, actually, as it is thin and easily spreads, draws in quickly without leaving an oily film, and leaves your skin feeling very fresh and cool. It's almost too much for cold weather, as that 'cool' feeling quickly becomes quite cold! As I said though: perfect for summer.
The smell is lovely, fresh and summery too, and while it's quite a strong perfumed scent, it quickly fades to a light and pleasant smell. A little like aloe wetwipes. Clean, and fresh.
The Healthy Hands And UV Protection SPF 15 Hand Cream* (£2.99) is very similar to the lotion, but it is thicker and it leaves more of a residue, and takes a little longer to 'draw in' properly. It's nice, and leaves your skin silky smooth, but has the same 'cooling' effect. This is not a bad thing. But right now my fingers are freezing!
The Vaseline Healthy Hands And Stronger Nails Hand Cream* (£3.41 for 75ml) is exactly that - a hand cream and moisturiser that is meant to strengthen nails. They say that it increases nail strength by 50% within two weeks use. My nails are pretty short with two little people around, so I can't say specifically whether they are stronger or not.
I've been trying to place the scent of this hand cream and I can't really. It's pink packaging and the 'Rosy' lip balm lend itself to your thinking that it should be rose scented, but it doesn't quite hit the 'rose' note. It is nice though, pleasant and light.
There's not much difference in the feel of the aloe hand cream versus this one, except that your hands don't feel as fresh - or 'cool'. If you don't need nail treatment, I'd say go for the aloe, if you do need nail treatment, I'd say go for the stronger nails one. They're both equally effective as moisturisers.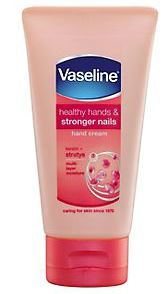 The only item I'm not hugely crazy about is the Lip Therapy* (£1.99), and that's honestly just because the idea of Petroleum Jelly grosses me out a bit. I'm not terribly sure why that is either.
That said, for your benefit, I tried it. A little goes a very long way. Seriously, the smallest amount on your finger tip covers the whole lip area. It barely makes a dent on the surface of the product.
The Jelly makes your lips seriously soft and keeps them well moistened. It doesn't smell rosy, in fact, again, I could barely discern a smell to it, but it had a very rosy taste on my lips. Is this my mind playing tricks on me? I don't think so. It really was a nice taste, like rose water. If this was any other product other than petroleum jelly, I'd probably use it all the time. It's soft, smooth and protects your lips if they are already chapped and sore, especially in the variable weather.
The Good
Vaseline products are easy to find pretty much anywhere
They are very well priced
The smells are pleasant, fresh and summery
They do what they say they do
The hand lotions are rich and effective, the moisturiser is perfect for busy people on the go
The Bad
It's the same old same old, my problems. I don't like chemical products. I wouldn't choose them over more natural products.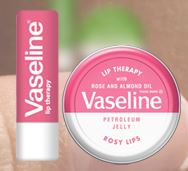 The Verdict
Vaseline products are well known, easy to get hold of, and they do what they say they do. They're probably easily overlooked because they've always been around, but if you have no skin issues, they're worth trying, because it'll be good on your pocket at least!