Trunki Trixie Fully Loaded Gift Set £37.93 @ Amazon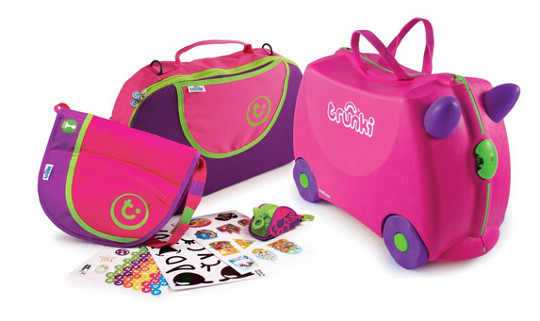 There's a great offer on Trixie Trunki at Amazon at the moment, where a whole Gift Set is on offer for £37.93 instead of £69.99 - if we needed another Trunki, I'd be all over this one! (Trixie is the pink Trunki. There's also a blue one, Terrance, but he's currently £42.
I seriously think this is a fantastic offer from Amazon. Not only do you get Trixie, with locking catches, a seat belt for teddy bears, two carry handles, a 'secret' compartment, a carry-tow strap and a 'passport' for downloadable activities. Trixie ordinarily sells for around £32, but in this gift set, you also receive a Tote Bag, a saddle bag, a very popular sticker pack, a holster and a wrist purse - making it a perfect gift for a travelling tot.
While a Trunki is completely non-essential for travelling with Tots, it is totally brilliant. We filled ours with enough to keep a toddler busy on a 21 hour flight recently and it was a godsend for speeding through the airport on an transfer to our final flight!
Thanks to wishihadadonkey at HUKD